Vision Systems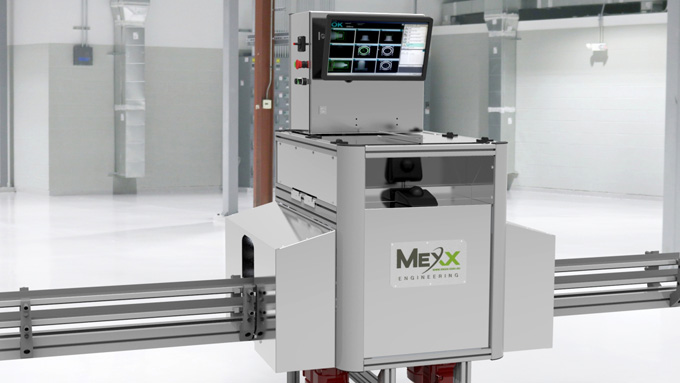 Automated systems reduce costs, increase performance, productivity and ensures quality. In many applications, the vision system is the vital component of any automated process. It interprets real-time images and uses pre-defined criteria. 
Vision System
KEY FEATURES:
5" touch screen for operation and production information
20" Display and roller track ball for camera system control and setup
Light tower for status indication
Eject bottles using air blast
PLC Controlled - Independent floor mounted frame for stability
Bottle Inspection Vision System
The Mexx Engineering® Vision System checks the orientation and position of a product. It inspects the product in order to determine how to handle it. It also checks for damages. By doing so, it ensures the quality of the product.
Common tasks performed by vision systems include:
Identification of flaws in manufactured items
Precise and accurate measurement of items
Location, recognition, sorting and counting of items
Correct positioning of items
The high speed processing capability of a vision system, within an automated process, ensures high-level, repeatable results 24 hours a day, 7 days a week. High speed image input contributes to increasing throughput.
The characteristics of a high-end vision system include complex image processing algorithms and real time, continuous data acquisition and analysis. The high resolution and sensitivity of high end vision systems make them a real world solution to manufacturing optimisation.
Benefits of vision systems
From a production point of view there are 3 benefits of using high-end vision systems as part of an automated process:
Better quality control – defect free products avoid product or lot returns, reduce overheads and increase brand image by identifying errors during the production process
Faster production line – reduces manufacturing costs and production times leading to greater production and increased profits
Fewer injuries – reduced repetitive or dangerous tasks lead to reduced work related injuries
From a corporate point of view, there are two key benefits in using a high end vision system:
Greater profits – increased quality control, reduced manufacturing and production times, all result in a higher return on investment (ROI)
Higher employee satisfaction – less injuries and boring repetitive or dangerous tasks improves employee retention and satisfaction
Applications of vision systems
The integration of high-end vision systems can increase productivity or efficiency within the following industries:
Packaging & Palletising: This includes making sure that the correct labels or barcodes are affixed to the packaging, the labels are placed correctly, the integrity of the packaging is complete and that the packed items are correctly stacked on pallets.
Plastics & Moulding: Defects such as particulates, bubbles and blisters in plastics can be identified; and container conformity parameters such as the dimensions, presence of threads, the finish, size of neck etc., can be checked. The integrity of injection moulding product can be checked allowing the process to run in automatic mode, eliminating the need for human checks and speeding up production.   
Food & Beverage: Visual systems can check on barcodes, expiry dates, packaging integrity, the presence or absence of items and labels. Fruit and vegetables can be inspected and sorted by colour, size and ripeness, with defects such as cracked skin, shape defects, mould or blemishes identified. Fill levels in bottles can ensure that packaging contents are guaranteed.
Pharmaceuticals & Neuroceuticals: Used to inspect the quality and integrity of blister packs, bottles, vials, cartons and packaging; lot and batch codes, barcodes, tablet and vial counting, etc.
Metal & Steel Works: Used in robotic assembly lines to increase production, task completion times, quality assurance, packaging and palletising. Ideal for parts recognition, precision measurements, repetitive tasks and the identification of defects.
Mining: As an alternative to grading using the belt-cut technique – vision systems can measure the dimensions and detect faults rapidly in real time, evaluate the integrity of the conveyor belts, operate in harsh environments and are suitable for both open-pit and underground mines. Bucket payloads can be optimised by ensuring accurate positioning of the shovel with respect to the dig face and remote operation of equipment can be optimised
---

Mexx EngineeringTM Technology Partners:
ABB, Bosch Rexroth, Busch, Festo, Flexlink, FlexCAM, Fronius, Hiwin, Hypertherm, IFM, Igus, Murr Electronik, Nordson, Omron, Phoenix Contact, Schmaltz, Schneider Electric, SEW Eurodrive, Sick, SMC, THK, Turck
For more information call 07 5571 5733 or email info@mexx.com.au.