Bottle Palletiser System
The Bottle Palletiser System will pick and place bottles into layers on a pallet. The system can have one
robot picking up from a conveyor and dropping off bottles into two separate pallets.
This system can be manufactured either as a stand-alone OEM product or fully-automated turnkey system as part of a larger production line.
Bottle Palletising System
KEY FEATURES OF BOTTLE PALLETISING SYSTEM:
Seamless bottle palletising system
Central control via HMI
One ABB robot equipped with a Mexx Universal Bottle Vacuum Head
Automatic multi-pallet out-feed
System safety interlocked and guarded as per Australian and New Zealand Standards
HOW DOES IT WORK?
The Bottle Palletiser System is equipped with the Mexx Universal Bottle Vacuum Head. The vacuum head can handle large array of cups. It allows the ABB robot to pick up any sized bottle. Without any tool change, the robot picks up the bottles from a conveyor and places them onto one or two pallets.
The robot with then pick up a row of bottles, place it down onto pallet, and repeats the process until the layer is full. Once a layer is full, it will pick up a layer pad, place it on top of the bottles, and repeats the process until a stack of 15-layered pallet is placed onto a conveyor. The conveyor indexes through the stacked pallets using a light curtain and series of muting sensors. This process keeps the robot safe and allows the pallet to exit the system while the robot goes and picks up a layer pad and pallet.
The pallet can either stay at the end of that machine to be picked up by a conveyor, a forklift, or an Automated Guided Vehicle (AGV) can transfer the palletised product to and from the storage facility. A strapping mechanism can be added in preparation for palletised product transfers.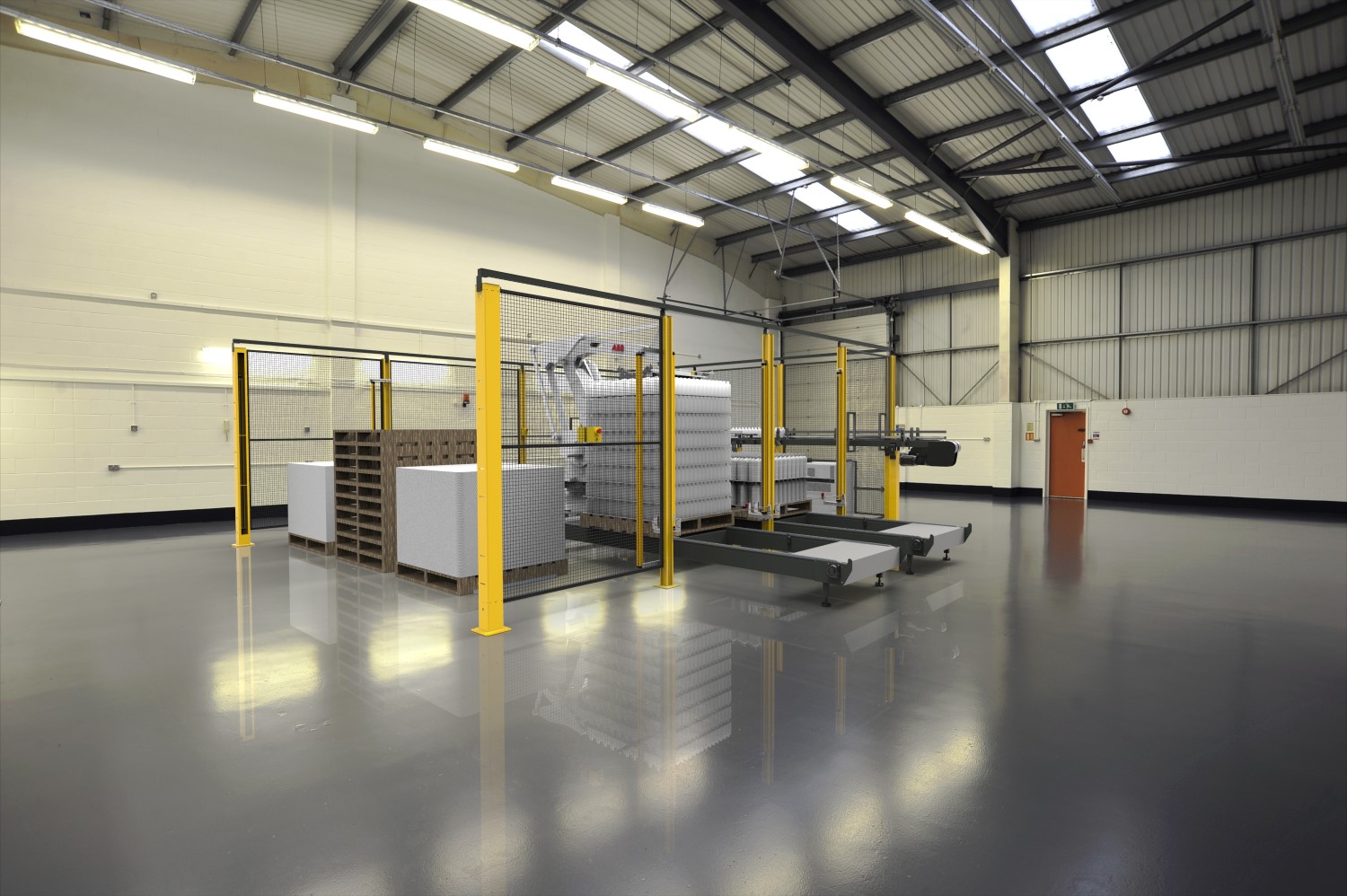 APPLICATIONS FOR THE BOTTLE PALLETISING SYSTEM:
The integration of high-end bottle palletising system can increase productivity or efficiency within the following industries:
STAND-ALONE MACHINE
As a stand-alone EOM machine, the Bottle Palletising can be built to suit an existing debagging system and conveyor system. 
TURNKEY SYSTEM
This type of setup will require a vision system to detect the bottle size and a conveyor system that will transport the bottles from the Bottle Palletising System to the next production line. This setup is called a turnkey system.
As a turnkey system, the Bottle Palletising System is a fully automated system where the following components are purposely added to create a sophisticated machine:
DESIGN AND BUILD PERIOD
As a stand-alone machine or EOM product, it may take around 25-weeks from purchase order to delivery. On the other hand, a custom-made turnkey system can take longer depending on the customer's requests and specifications. 
SERVICE MAINTENANCE
Service maintenance is any work necessary to keep all customer facilities in good repair and operating condition. It includes maintaining and repairing essential components of a machine. This excludes explicitly new work and alterations such as:
manufacturing and modifying machines and complete lines
providing decorative treatments
modifying vision systems
attaching or extending items to the machine.
WARRANTY
All of Mexx Engineering® machines and turnkey systems come with a minimum of one year warranty on workmanship and materials. 
Each system developed by Mexx Engineering® is a seamless automated machine that minimises environmental impact and maximises performance while ensuring the safety of its operator.
For more information, please contact 07 5571 5733 and choose option 1 for sales, to discuss the best combination of equipment and system maintenance to suit your application.
---
---