Conveyor System
The conveyor system controls product delivery from point A to point B with the use of various conveyor chain materials. Its guide rail system is fully adjustable to ensure continuous movement of the bottle around a curve. The flexibility of the compact disc combined with its tight chain and beam profile provides reliable handling for various product types. 
The conveyor system provides gentle, controlled handling of complex, irregular and/or fragile items. Accordingly, products can be accumulated, indexed and accurately positioned into automated processes, such as machining and assembly lines for robot pick up and placement.
While the term conveyor system almost implies that it is a complete system, each conveyor is really only part of the overall solution. Conveyors are the supply systems for your factories processes and are considered to be labour-saving systems allowing organisations to move larger volumes of goods, through a process with increased output.
Factory layout and choice of conveyor system type will play a big part in the optimisation of your factory logistics.  Mexx Engineering has both the robotics automation capability and the factory automation experience in providing conveyor systems, which streamline factory operation. The list of available conveyor system types is quite extensive, with the most common systems being:
Roller Conveyor
Belt Conveyor (conveyor belt)
Slat Conveyor
Side Grip inverter
Accumulation Tables
Rotary Cages
Double Inverter Cage
Overhead Conveyor Systems
Conveyor System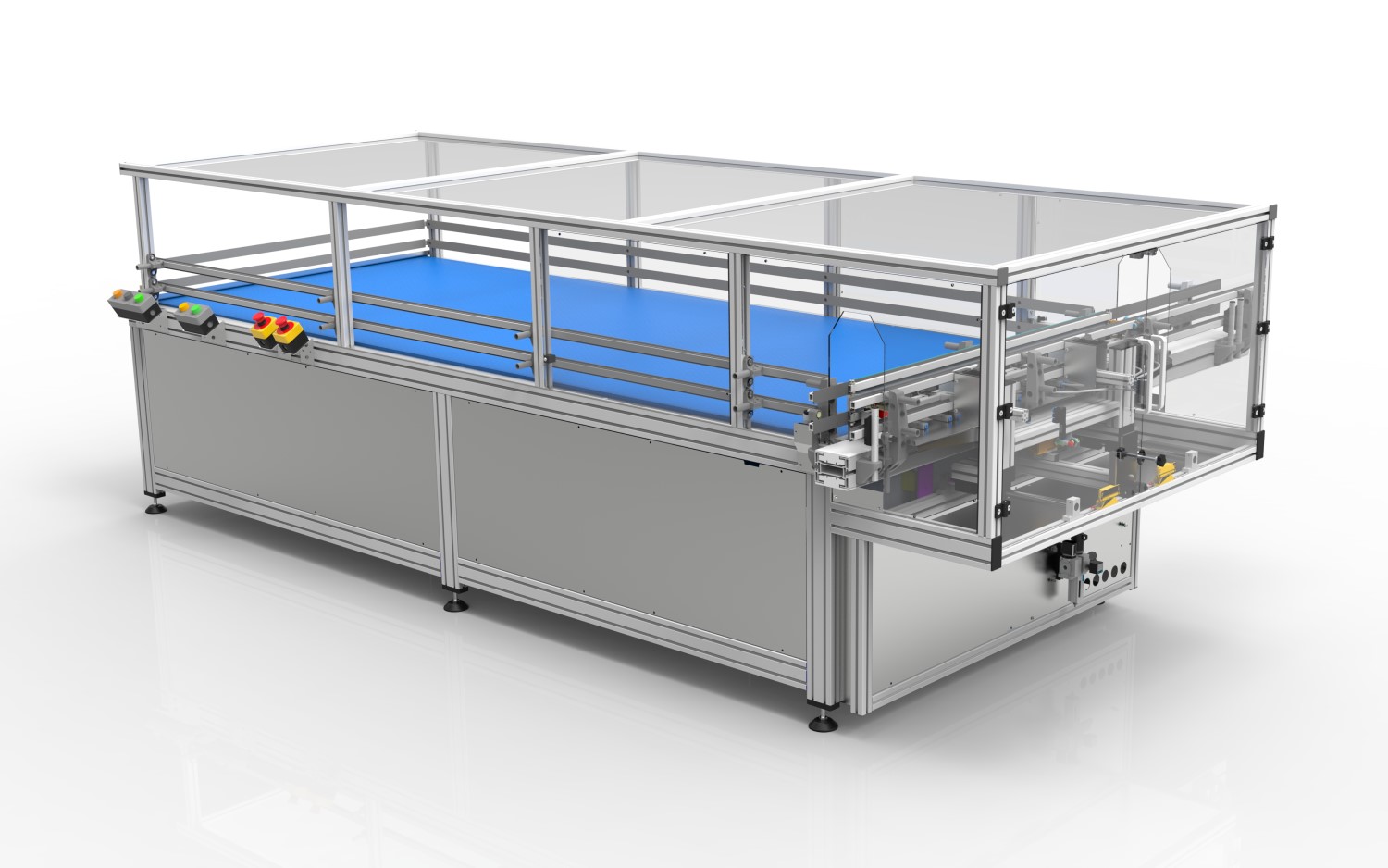 Accumulation Table Of A Conveyor System
KEY FEATURES OF THE CONVEYOR SYSTEM:
Aluminium or stainless conveyor system
Includes automatic self-centring guide rail adjusters
Integrated transfers from upstream conveyors
Integrated transfers to downstream conveyors
High-speed with virtually no back-pressure and bottle gaps
Accumulation system
Full system control
System safety interlocked and guarded as per Australian and New Zealand Standards
HOW DOES IT WORK?
A conveyor system is a common piece of mechanical handling equipment that moves materials from one location to another. Conveyors are especially useful in applications involving the transportation of heavy or bulky materials. It allows quick and efficient transportation for a wide variety of materials, which make them very popular in various industries.
The accumulation table of a conveyor system is where all the product is collated. It is also used as a buffer during an event of stoppage or interruption. The accumulation table can either be set as first-in-first-out (FIFO) or last-in-fist-out (LIFO) depending on the customer specification. Bottles are then pushed out of the accumulation table to a conveyor line.
Our state-of-the-art guide rail system enables the conveyor line to around a curve without compromising stability and continuous flow. The guide rail is extremely important to stabilise hard bottles.
The conveyor line can be connected to a bottle inverter or bottle turner to change the orientation of a bottle. It turns the bottle upside down to let any of the debris that is inside of it fall out, as well as, agitate it with a series of jets and then turns the bottle the correct way around. Then, puts it back down onto a conveyor before it goes into a filling line or another process.
We can build and install a conveyor system either in stainless-steel or aluminium. Our stainless steel conveyor system meets Good Manufacturing Practice (GMP) standards within the food and beverage industry. Stainless-steel machines and equipment helps manufacturers to meet the stringent hygiene audits set by Australian and New Zealand legislations. The stainless-steel is incredibly versatile when it comes to design, plus is robust enough to withstand the most rigorous of cleaning processes.
Vertical conveyors contain two adjacent, parallel conveyors for simultaneous upward movement of adjacent surfaces of the parallel conveyors. A side-grip elevator is crucial in this type of conveyor. The side-grip elevator is a component of the bottle inverter where it grab bottles with cleats, lift the bottles, and transport it vertically within a conveyor line. 
An automatic adjustment system can be added in a vertical conveyor system to verify the position of each bottles using a series of motors and linear transducers. An automated adjustment system minimises backlash. It ensures the force of each grip is consistent at all times. 
The dual conveyors rotate in opposite directions but are operated from one gearbox to ensure equal belt speed. One of the conveyors is pivotally hinged to the other conveyor for swinging the attached conveyor away from the remaining conveyor for access to the facing surfaces of the parallel conveyors.
A custom vacuum style conveyor assures spacing within a debagging system. It holds down bottles while running at high speeds or varying speeds without the risk of the bottle ever knocked down from the conveyor line.
A conveyor system is often overlooked by manufacturers because it appears to be a simple system. There are a few competitors in the market, however we take pride in providing high-quality solution-based system rather than a conventional conveyor system.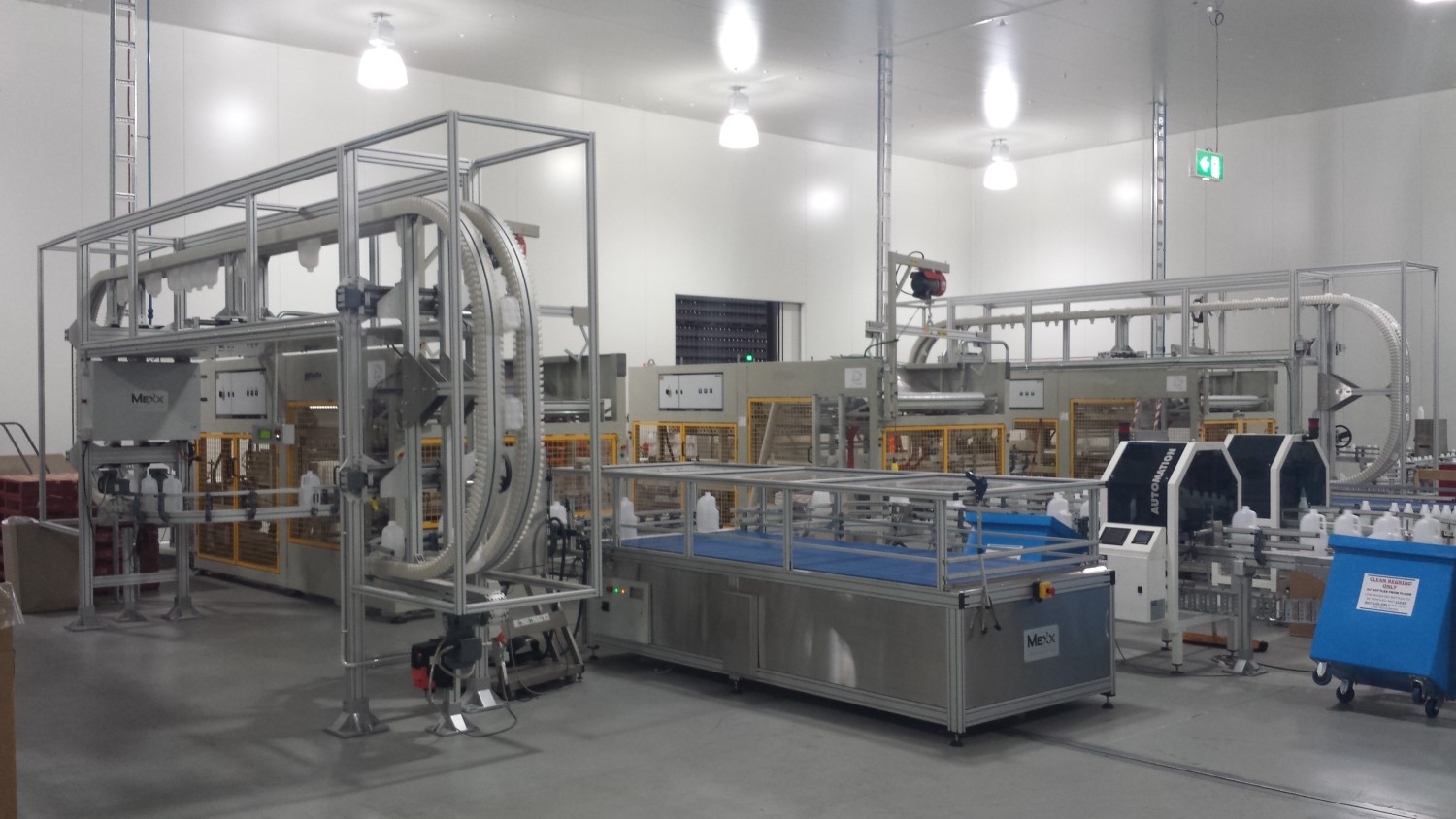 Conveyor System (Stainless Steel)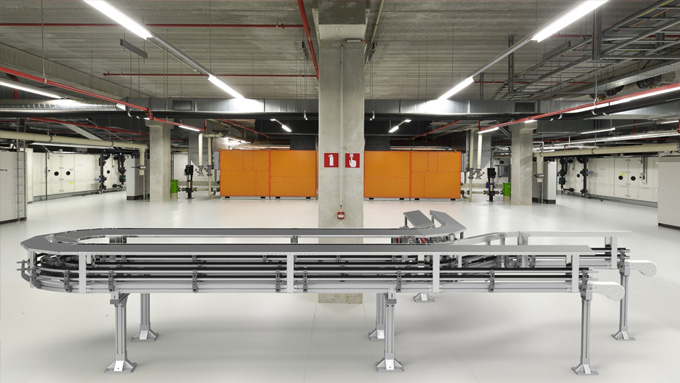 Covered Conveyor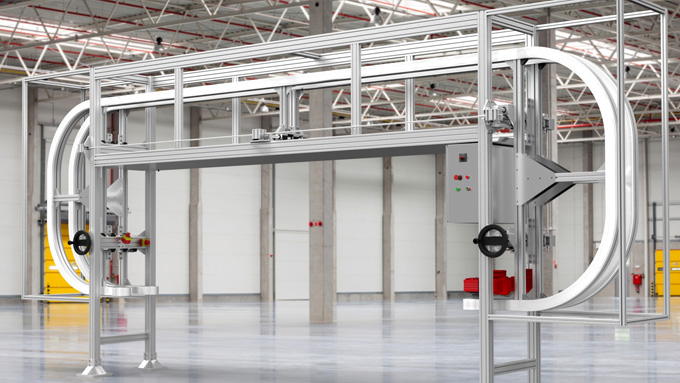 Side Grip Conveyor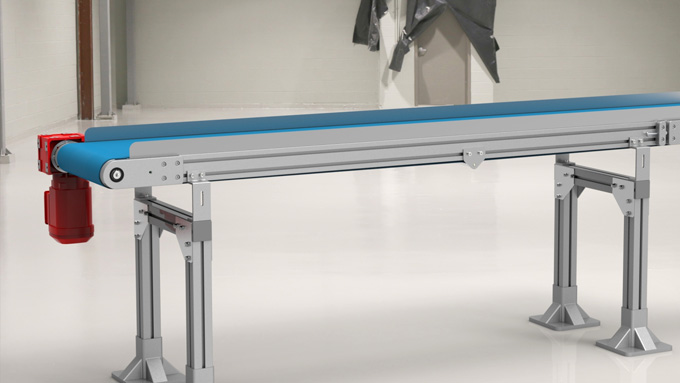 Belt Conveyor
APPLICATIONS FOR THE CONVEYOR SYSTEM
The integration of high-end conveyor system can increase productivity or efficiency within the following industries:
STAND-ALONE MACHINE
As a stand-alone EOM machine, the conveyor system can be built to suit an existing autobagging, de-palletising and vision system. 
The conveyor system is one-of-the-kind. It is smart and programmable. 
TURNKEY SYSTEM
This type of setup will require a vision system to detect the bottle size and a conveyor system that will transport the bottles from the conveyor system to the next production line. This setup is called a turnkey system.
As a turnkey system, the conveyor system is a fully automated system where the following components are purposely added to create a sophisticated machine:
DESIGN AND BUILD PERIOD
As a stand-alone machine or EOM product, it may take around 25-weeks from purchase order to delivery. On the other hand, a custom-made turnkey system can take longer depending on the customer's requests and specifications. 
SERVICE MAINTENANCE
Service maintenance is any work necessary to keep all customer facilities in good repair and operating condition. It includes maintaining and repairing essential components of a machine. This excludes explicitly new work and alterations such as:
manufacturing and modifying machines and complete lines
providing decorative treatments
modifying vision systems
attaching or extending items to the machine.
WARRANTY
All of Mexx Engineering® machines and turnkey systems come with a minimum of one year warranty on workmanship and materials. 
Each system developed by Mexx Engineering® is a seamless automated machine that minimises environmental impact and maximises performance while ensuring the safety of its operator.
For more information, please contact 07 5571 5733 and choose option 1 for sales, to discuss the best combination of equipment and system maintenance to suit your application.
---
---