Continuous Bottle Turner
The continuous bottle turner is designed to reorient bottles on a conveyor line. The bottles are turned by independently adjusting the speeds of the two belts with respect to the conveyor speed. The system can either be mounted on the floor or in the ceiling as an overhead version.
Continuous Bottle Turner (Ceiling Mounted)
Continuous Bottle Turner (Floor Mounted)
APPLICATIONS FOR THE CONTINUOUS BOTTLE TURNER:
The integration of high-end continuous bottle turner can increase productivity or efficiency within the following industries:
HOW DOES IT WORK?
The continuous bottle turner is designed to reorient bottles on a conveyor line. It comes in two variations where one is roof hanging and the other is floor standing. A remote-access panel can be added as an accessory. This enables the operator to switch the system on and off from a distance.
The machine runs with a series of belts on the neck of the bottle which then engage the bottle with a gentle lead-in and lead-out to spin. The bottleneck is spun so it's not touching the top only the threads of the cap. It spins the bottle in either 90, 180, or 270 degree angle.
As an example in a bottling plant, a blow moulding system with a two-exit machine (both left and right). It balances extra moulds and the bottles may come with a handle. In some instances, a few handles are facing forward while others are trailing. This may pose a problem within the production line. In an ideal situation, all bottle handles are positioned in one direction. To solve this issue, a bottle turners can be installed at one side of the blow moulder. It will that turn the bottles to a pre-specified orientation as requested by the customer. 
In addition to adjusting the orientation of the bottles, the continuous bottle turner spaces out bottles to provide room for it to spin on the fly. This all happens in one continuous operation, this machine can be programmed to run bottles in fast or slow, it will just keep on spinning all bottles until it is set to the right orientation.
The machine is fully versatile with various scales and readouts. The heights for different bottles, as well as, different widths of bottles neck can be pre-set. It is fully adjustable, all done with wheels so there is no two-link change. These adjustments are calculated with high-precision.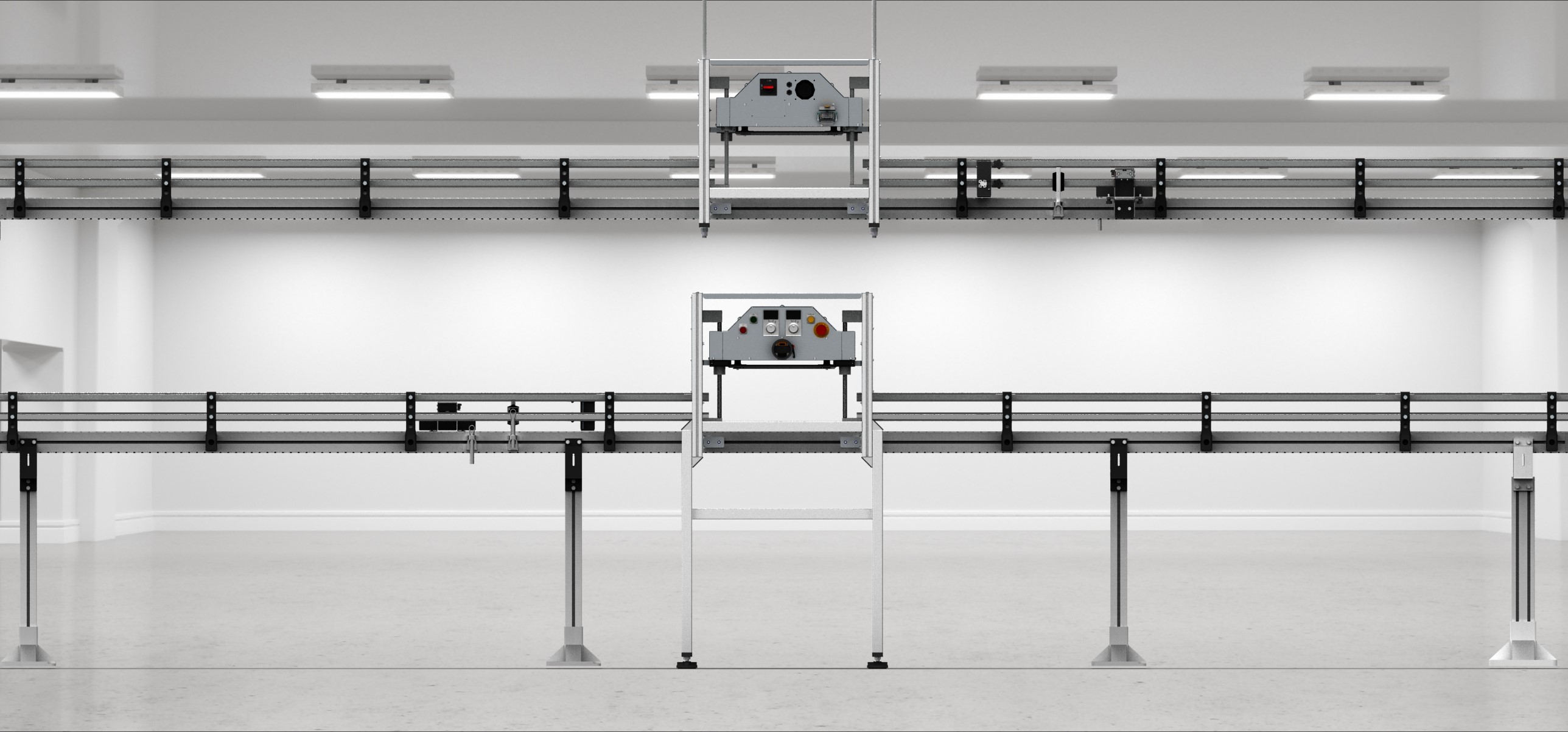 Continuous Bottle Turner - floor standing (bottom) and roof hanging (top)
KEY FEATURES OF CONTINUOUS BOTTLE TURNER:
Two mounting options available (floor standing or roof hanging)
The roof hanging kit includes a wired remote control pendant
The remote control is available separately for floor standing models
Both mounting options connect to the same base device, so changing the mounting method in the future is as easy as purchasing the appropriate mounting kit
System safety interlocked and guarded as per Australian and New Zealand Standards
STAND-ALONE MACHINE
As a stand-alone EOM machine, the Continuous Bottle Turner can be built to suit an existing debagging system and conveyor system. 
TURNKEY SYSTEM
This type of setup will require a vision system to detect the bottle size and a conveyor system that will transport the bottles from the Continuous Bottle Turner to the next production line. This setup is called a turnkey system.
As a turnkey system, the Continuous Bottle Turner is a fully automated system where the following components are purposely added to create a sophisticated machine:
DESIGN AND BUILD PERIOD
As a stand-alone machine or EOM product, it may take around 25-weeks from purchase order to delivery. On the other hand, a custom-made turnkey system can take longer depending on the customer's requests and specifications. 
SERVICE MAINTENANCE
Service maintenance is any work necessary to keep all customer facilities in good repair and operating condition. It includes maintaining and repairing essential components of a machine. This excludes explicitly new work and alterations such as:
manufacturing and modifying machines and complete lines
providing decorative treatments
modifying vision systems
attaching or extending items to the machine.
WARRANTY
All of Mexx Engineering® machines and turnkey systems come with a minimum of one year warranty on workmanship and materials. 
Each system developed by Mexx Engineering® is a seamless automated machine that minimises environmental impact and maximises performance while ensuring the safety of its operator.
For more information, please contact 07 5571 5733 and choose option 1 for sales, to discuss the best combination of equipment and system maintenance to suit your application.
---
---