Robotic Weld Cell
The Robotic Weld Cell performs robotic welding on a fixed table (FX) or in a rotating unit (RD). The rotary unit reorients the product during the welding process. The system ensures the operator is protected from weld arc. The system operates automatically ensuring maximum production output. The robot is always welding while you unload finished products and load new parts.
Robotic Weld Cell (RD-RD-K 2600)
Robotic Weld Cell (RD-RD-K 1520)
Robotic Weld Cell (FX-RD)
KEY FEATURES OF THE ROBOTIC WELD CELL:
Rotary axis coordinated with a welding robot
Various Fronius power source options to suit customer's requirement 
TCS with Bulls-eye for torch service & calibration 
Notification light tower and alarm to notify the operator of the cell status and material outages.
Operator interface through Robot Teach Pendant.
System contains fixed part loading locations for each of the parts to be welded
System safety interlocked and guarded as per Australian and New Zealand Standards
HOW DOES IT WORK?
The Robotic Weld Cell, also known as MexxWeld, is movable by forklift via its integrated fork tines. Once in place and connected, it is ready for operation. This is within minutes of delivery. 
The Robotic Weld Cell has fully enclosed work areas which ensures safety. The internal weld curtains ensure operators are protected from weld arc on the 2nd bay. The doors are opened automatically ensuring maximum production output. The robot is always welding at a high production rate.
The Robotic Weld Cell have several variants of fixed and rotary tables with various configurations of:
RD-RD-K - Rotary Table with Rotating Unit
FX – RD - Fixed Table with Rotating Unit
 Applications of robotic welding cells can include:
Construction
Steel pipes
Car manufacturing
Arc welding
Industrial welding
Plasma arc welding
MIG (metal/inert gas) welding
TIC (tungsten inert gas) welding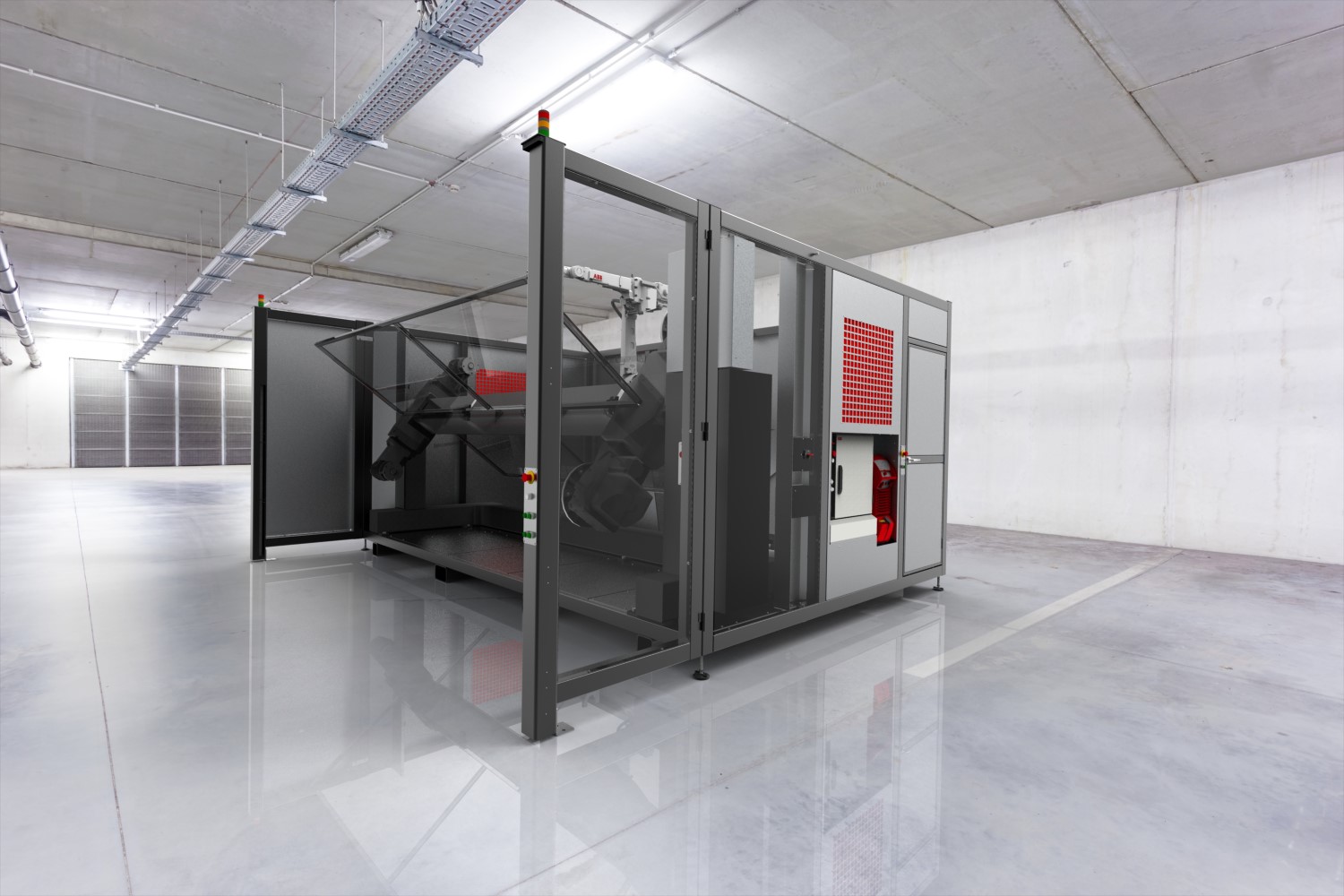 Robotic Weld Cell (RD-RD-K 2600)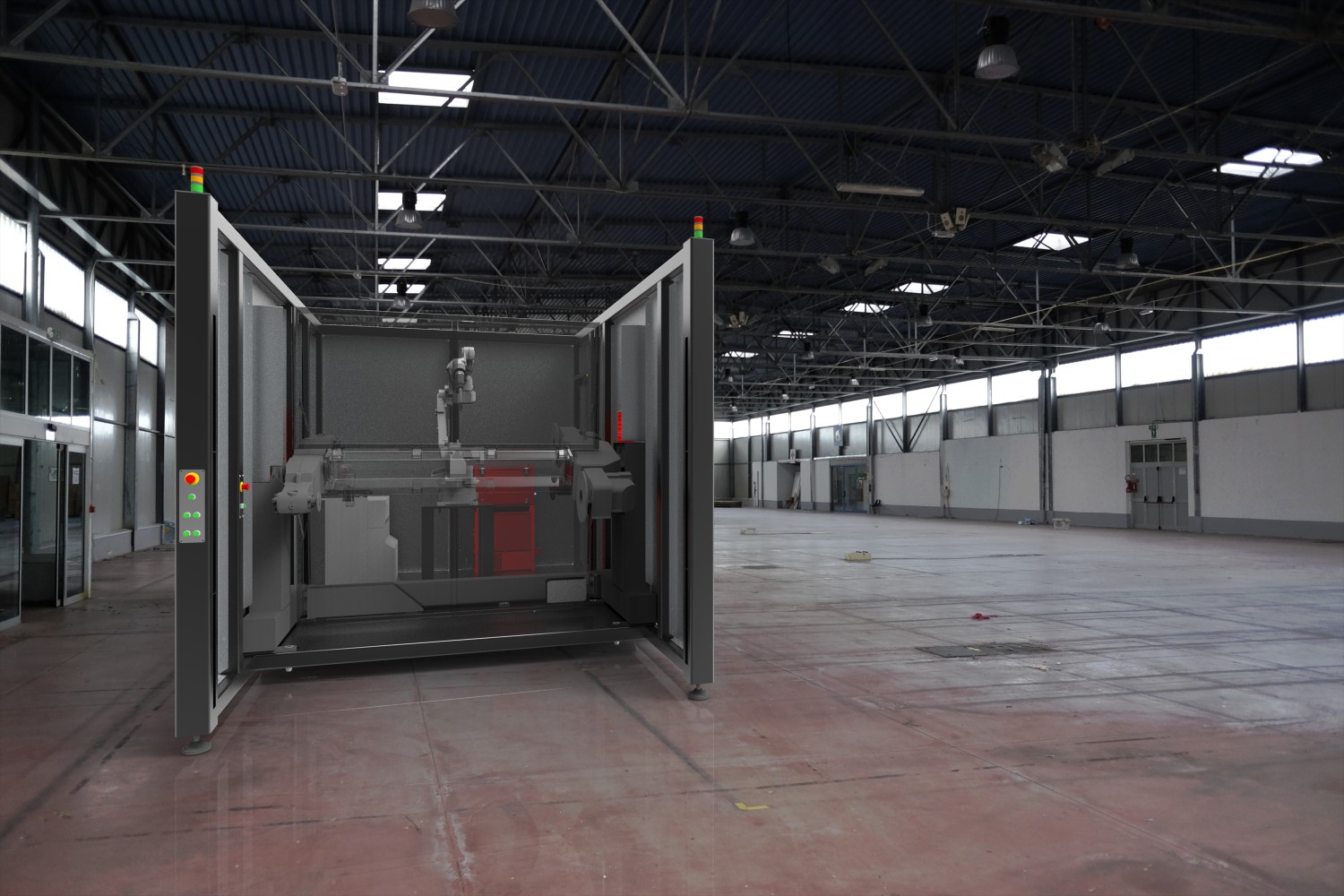 Robotic Weld Cell (RD-RD-K 1520)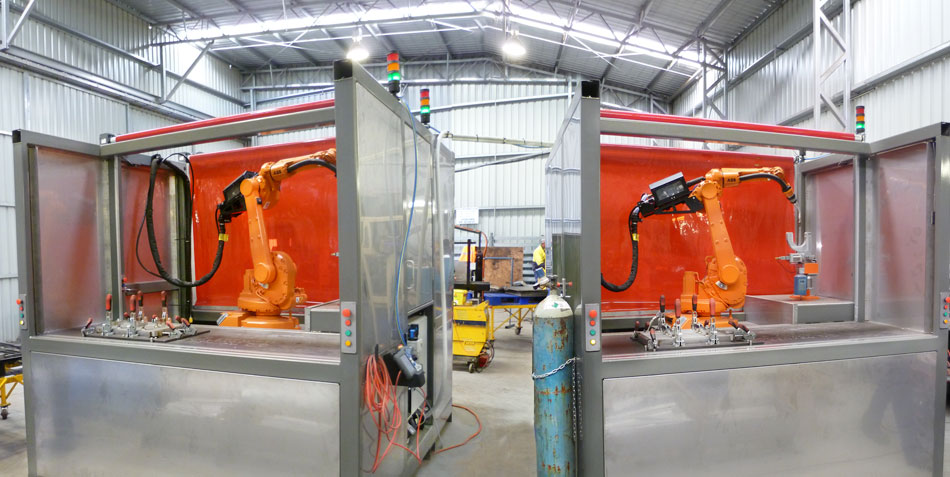 Robotic Weld Cell (FX-RD)
APPLICATIONS FOR THE ROBOTIC WELD CELL
The integration of high-end robotic weld cell can increase productivity or efficiency within the construction industry.
STAND-ALONE MACHINE
As a stand-alone EOM machine, the robotic weld cell can be built to suit an existing system. 
The robotic weld cell is one-of-the-kind. It is smart and programmable. 
TURNKEY SYSTEM
This type of setup will require a vision system to detect the quality of the finished product and a conveyor system that will transport the products to the next production line. This setup is called a turnkey system.
As a turnkey system, the robotic welding system is a fully automated system where the following components are purposely added to create a sophisticated machine:
DESIGN AND BUILD PERIOD
As a stand-alone machine or EOM product, it may take around 25-weeks from purchase order to delivery. On the other hand, a custom-made turnkey system can take longer depending on the customer's requests and specifications. 
SERVICE MAINTENANCE
Service maintenance is any work necessary to keep all customer facilities in good repair and operating condition. It includes maintaining and repairing essential components of a machine. This excludes explicitly new work and alterations such as:
manufacturing and modifying machines and complete lines
providing decorative treatments
modifying vision systems
attaching or extending items to the machine.
WARRANTY
All of Mexx Engineering® machines and turnkey systems come with a minimum of one year warranty on workmanship and materials. 
Each system developed by Mexx Engineering® is a seamless automated machine that minimises environmental impact and maximises performance while ensuring the safety of its operator.
For more information, please contact 07 5571 5733 and choose option 1 for sales, to discuss the best combination of equipment and system maintenance to suit your application.
---
---